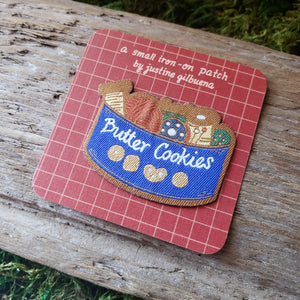 From Justine Gilbuena

measures 2" wide

machine embroidery, hot cut border

placed on an illustrated backing card
INSTRUCTIONS:
Place the patch on your garment and cover the patch with a piece of pressing cloth. Iron on high heat for 30-45 seconds and press the iron straight down.

Turn the garment inside-out and iron on reverse side of the patch for 30-45 seconds. Allow the patch to cool down.

Sewing on the patch is recommended for garments that will be washed often.
From the artist: I'm an illustrator and a one-woman shop from New York with my cat assistant, Peach. My tiny online shop opened in May of 2016 (first on my Etsy shop) with just one item listed, an enamel pin inspired by one of my favorite coming-of-age movies. I started designing because I love the idea of sharing my tiny pieces of art with other people in a more tangible way. Some of my designs are inspired by my childhood, growing up in a Filipino household, surrounded by old Singer sewing machines and danish butter cookie tins filled with needles and thread. I also love to create items based off of the little things that make me happy: films, books, forest findings, tea and croissants. I hope that I get to continue to explore, experiment, and design. But, more than anything, I hope that my work inspires the same sense of nostalgia and wonder that it does for me.