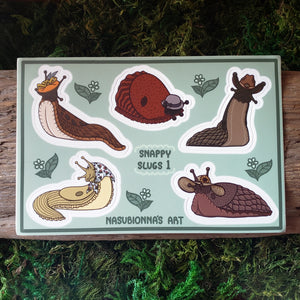 From Slug Stampede Ranch
A vinyl sticker sheet featuring illustrations of dapper gastropods sporting various hat styles.
Each sheet is 4 x 6 inches of high-quality, weather resistant vinyl, and each sticker is approximately 2 inches or so.
There are a lot of slugs near my house, and one day I felt like drawing one wearing a cowboy hat. Things escalated after that, haha! I didn't want to leave their shelled cousins out.

Measures approx 4" x 6" inches
Sticker sheets are waterproof and printed on high quality matte vinyl paper.
Each sticker sheet includes 5 stickers total
From the artist: My name is Laura, I'm a self-taught artist living in the forest of the Pacific Northwest. I enjoy drawing all sorts of things, and making stickers and pins of various critters.